Distance Reiki Energy Healing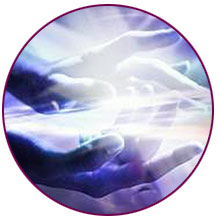 About
Distance reiki and energy healing sessions are performed as if the client was in the office. The practitioner works around the table as if they were there in front of the client. She takes notes during the session and writes up an email to the client after regarding what came up and was released. In addition to reiki, sometimes the practitioner will use tarot cards, conscious healing and BodyTalk to aid in the healing process.
Energy cannot be destroy or created, it can only be transformed. This is a law of physics. Healing energy can travel over space and time to reach another person. There are no physical boundaries because everything is made up of energy, from you and I to the computer that is solid in your hands, to the chair you may be sitting on. Did you know that the light we see at night from the stars is millions of years old by the time it reaches our eyes? Yet that energy has traveled through space and time to reach us.
 
Testimonials
"I had the pleasure of meeting the practitioner for an in-person Reiki session while on travel to Lake Tahoe last summer. I'd heard of distance Reiki but had always been skeptical to try it. In my first moments with the practitioner it was clear to me she's the 'real deal' and I experienced profound results from my very first session. 
After returning home I decided to give distance Reiki a try. For the first session we scheduled I set the time aside to lie down still, clear my mind and breathe as she worked. After the session she sent me a summary which was spot on in so many ways I could hardly believe it. Every distance session I've had with the practitioner has resulted in significant progress for me personally, whether through revelations from the session or direction she has given me to follow as a result of what she picked up.
I don't really understand how or why it works but in each session she seems to tune right into where I am and what I'm working through in my life at that time. I've long been a hard core, left brain, pragmatist but I've come to accept that just because I can't understand or define something does not make it any less real. The practitioners at 5th Element come with my highest recommendation." — Jen, Alabama
"While I was up in Tahoe City last summer I had a session with one of the practitioners and was thrilled to learn that she does remote sessions.  I was interested in having energy work done more often than once or twice a year but really trusted her and didn't want to have to search for a new healer.  She let me know how the process works and I was excited to have my first session.
Over the past year I've had several remote sessions with the practitioner and they've all been impactful and have provided significant insight as to what was going on in my life and suggestions for how I might want to approach different changes I was seeking.  It has allowed me to take pauses in my life and get centered and balanced.  It's amazing to me how well this works remotely and I'm so grateful for the healing that can be done with her.
I typically set an alarm on my phone to remind me of my session time and I always make sure to take a few deep breaths and smile knowing that great work is about to be done. I'm looking to make a move to the east coast and am happy to know that I can continue my Reiki sessions with the practitioner no matter where I am in the world.  I highly recommend this option if you can't be with her for an in-person session." — Amy, Southern California
---
$85.00 for 1 hour