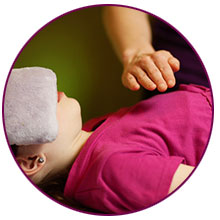 Energy Healing

"Now I feel mentally and emotionally stable and my mind is more clear. I'm more in the moment." — Paola, Kings Beach, CA

Energy healing sessions are a blend of usui reiki, angelic reiki, conscious healing, crystal reiki healing, BodyTalk Access, Young Living essential oils, intuitive readings and more.
Each energy healing session will be tailored to the individual client and what he or she needs at that time. The session may include all of the above methods or just some of them. This will be determined by the practitioner at the time of the session.
In this session, all you have to do is receive. The practitioner will guide you into a relaxed state, allowing for old emotions, blockages or stagnant energy to release in kind and gentle ways. Using her hands as the conduit for the energy to flow through, the practitioner will focus on different parts of the body in order to accommodate the release of pain, emotions or old patterns.
This will leave you feeling, lighter, clearer and more grounded by the time you walk out the door. Hopefully with a new perspective on life!


"I was surprised at the depth of relaxation I achieved. The only other times I reach this is sometimes during deep tissue massage (only if I feel connected to the body worker) and acupuncture." — Heather, Truckee, CA
---
$75 for adults 
$37.50 for children
Ask about our packages!